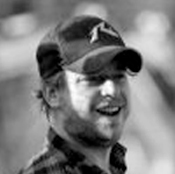 Name: Troy Jones
Company: St Ronan's Cider and Payten & Jones
Job Position: Producing Wine and Cider
What gets you up in the morning:
Usually young Poppy, way to late or early depending on how you look at it !!!
Do you have a secret you want to share:
Slinging booze for all this time people don't know that I studied Sports science, coaching & marketing at Uni ..... Don't tell any one ......
If you had 10 days to spend doing whatever you wanted what would you do:
Actually taking Bec on that honeymoon I promised her way back when .... It will be a lot longer than 10 days though .....
What skill or talent do you have that people may not expect:
Cooking and creating some amazing food and produce ... We love to cook, preserve and enjoy food from around here .... We spend way to much time on this when we get the chance .... Curing, Smoking, BBQ, Enjoying !!!!
Contact Details:
[email protected]
[email protected]
www.paytenandjoneswine.com.au
www.stronascider.com.au