Sean inspires his 8yr old god daughter to the Run – Away of success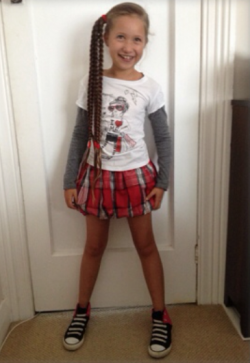 Our daughter Tataiarangi is changing almost daily and it is wonderful to witness her growing confidence and maturity.   She is a very happy little girl enjoying a pretty good life with ballet classes and private music lessons.  She has good friends and a loving family and loves doing aikido with her Mum Keala and me.
All of these things contribute to her sense of self-awareness, her own personal value and place in the world.  She is starting to recognise and understand that she is the master of her own destiny and it's a real metamorphosis…like the caterpillar transforming into a butterfly; she has thrown off some of her childish behaviours and has a new focus and determination, setting herself goals and reaching them. I love seeing her challenging herself to do better in a really healthy way in many aspects of her life…and as a result her maths, spelling, reading and writing are all improving.  She has such a passion for art and is designing the next projects for you to send to New York!
Her self-esteem and self-confidence are riding a long, strong wave and if I look back at the things that have stimulated these changes in her life, your gift is one of those crucial elements!
I know that Tataiarangi will never, ever forget the day her dresses arrived…that her original idea from her picture, became an actual reality.  It follows one of the mantras I share with her…conceive it, believe it, achieve it!
The joy she felt as a result of that gift of the dresses will remain with her long after she grows out of them, as ultimately they tell her that she is valued, her ideas and creativity are validated and that she is loved for who she is.  Thank you my friend.
She wore the blue dress to her cousin's 21st party the other night…(that's the last photo).  She looked gorgeous and the dress still fits perfectly.
Thank you too to Juan and Carmel for helping to bring this to life.  Your skills are impressive; your attention to detail meticulous and the effort and time that you put into these dresses make them truly magical!